"Having a safe and comfortable place to bring your child, no matter what age, is something I have always valued…"  – Heather Supranowitz
by Heather Supranowitz, Jake's mom
My son Jake is a 21-year-old young man with autism. Jake has participated in special needs programs at the JCC since childhood. Over the past few years, he has really benefited from the JCC's young adult programming. The programs that were available to Jake helped him in many areas including developing and increasing age-appropriate social skills and learning both life skills and vocational skills. Jake had the opportunity to participate in the internship program (Prichah)  last summer as well as intern during the Sunday program (Zemach). Jake enjoyed his custodial internship greatly and learned many skills. He was even fortunate enough to have been offered a part-time job working on weekends assisting with laundry and other custodial needs.
While we are extremely grateful for his employment opportunity, we are most appreciative of the many years Jake spent enjoying programming offered by the JCC which gave Jake many wonderful opportunities to socialize and learn alongside his friends and staff members on Sundays. Jake really misses his time at the JCC, and we are hopeful that as business resumes, that the special needs programs will resume there as well.  There is such great need for these quality programs to be available to the special needs population.
Having a safe and comfortable place to bring your child, no matter what age, is something I have always valued as one of the main reasons why I would enroll Jake in a program. The JCC has always offered that to Jake.
As a result of the COVID-19 pandemic, Jake has not been able to resume his job or participate in special needs programs at the JCC. We need your help to meet Jake back at the J. 
Learn more about the Shames JCC's current Special Needs programming here.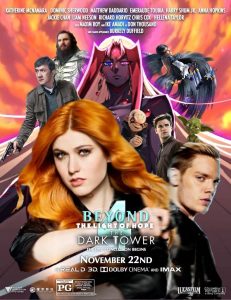 Jake is an aspiring graphic artist and film editor. He has a passion for creating movie posters, trailers, and music videos. Despite being self-taught, Jake's work is top notch. This image features one of Jake's imaginative movie posters. We are hopeful that in the near future, Jake can help us create a Shames JCC video!
Help Us Meet You Back at the J