The JCC Maccabi Games: an Olympic-style sporting event for Jewish teens, ages 13–17
Give your teen athlete an unforgettable experience of a lifetime! The JCC Maccabi Games are an Olympic-style sporting event for Jewish teens around the world.
This year, there will be two events: Israel (July 5–25, 2023, includes one week of games and a three-week tour of Israel) and Fort Lauderdale (August 6–11, 2023). 
On the field, athletes participate in one of 16 sports. Off the field, the excitement continues with Opening Ceremonies, evening social activities including amusement parks, zoos, host family nights, parties, and dances, all designed to encourage interaction among the athletes who come from around the U.S. and the world.
All athletes participate in a unique community service project, "JCC Cares," which is independent of their competition, a hands-on project that may serve those in need in the host community and/or teach the athletes something about Jewish and/or Israeli culture.
For more information, contact Maccabi Director Steve Weisbrot at 914.645.5978 or

[email protected]

.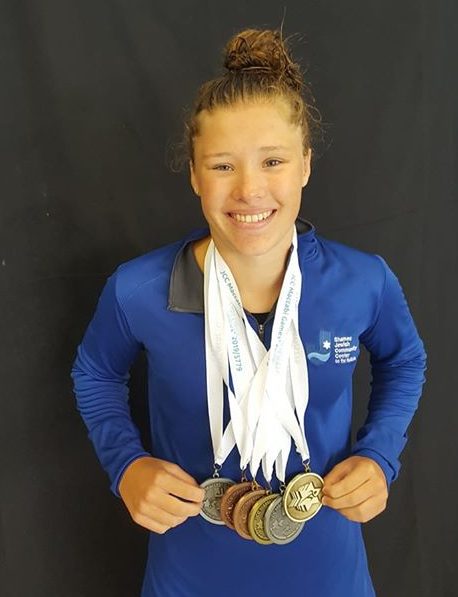 Interested in joining the Shames JCC Maccabi Games basketball team? Please attend a tryout. Dates below:
Maccabi Basketball Tryouts (ages 14–15) for Israel: Sunday, December 4th, 4:30-6:00 pm
Maccabi Basketball Tryouts (ages 13-14): Ft. Lauderdale Sunday, December 4th, 4:30-6 pm
Please fill out this tryout form before arriving. Please note a tryout is only needed for basketball. If you cannot attend this tryout date, please reach out to Steve Weisbrot at  [email protected]. If you are interested in other sports, please fill out this form.
Team Sports:
Boys Basketball 14U & 16U
Girls Basketball 16U
Boys Baseball 14U & 16U
Boys Ice Hockey 16U
Boys Soccer 14U & 16U
Girls Soccer 16U
Girls Volleyball 16U
Flag Football
Chess
E-Sports
Individual Sports
Swimming
Tennis
Golf
Dance
E-Sports
Table Tennis
Israel
July 5–25, 2023
Ages 14–17 years old
Sports offered: baseball, basketball, ice hockey, girls volleyball,
flag football, soccer, tennis, swimming, dance*
During this three-week immersive experience, more than 1,000 Jewish teens from around the world will experience Israel through the lens of sport. Highlights will include:
Olympic-style sporting events, including competitions, opening and closing ceremonies, large cultural events, and more.
An unforgettable tour of Israel's most culturally, religiously, and historically significant sites.
Exploring Israel through a sports lens, including opportunities to meet with influential Israeli speakers, coaches, and professional athletes
Participating in volunteer service projects with Israeli NGOs and social justice organizations
Thanks to the partnership of many philanthropic investors, Jewish teens are eligible to apply for significant subsidies!
Fort Lauderdale
August 6–11, 2023
Ages 13–16 years old
Sports offered: baseball, basketball, ice hockey, girls volleyball,
flag football, soccer, table tennis, tennis, swimming, dance*
1,800 Jewish teens from across North and South America, Israel, Europe, and beyond will gather in Florida for an unforgettable one-week JCC Maccabi Games and Access program. Highlights will include:
Olympic-style sport competitions, including opening and closing ceremonies, and a tribute to the Munich 11
Home hospitality with local Jewish host families
JCC Cares community service projects
Hangtime programming with Israeli schlichim
Evening social events