Group Exercise Classes are Open to All Shames JCC Members, Ages 16+.
Classes run for 45 minutes, except Yoga which runs for 1 hour
BYO mat, towel, and water bottle
Please note that reservations are NOT required for Group Exercise classes with the exception of Cycling, all Aquatics classes, and MELT. Indoor bikes will be reserved for registrants only; please continue to use our registration system for cycling found on the schedule link below. For all other classes, space will be available on a first-come, first-serve basis. (Please note that members may not join GroupEx classes after the warm-up, or after maximum capacity is reached—whichever comes first.)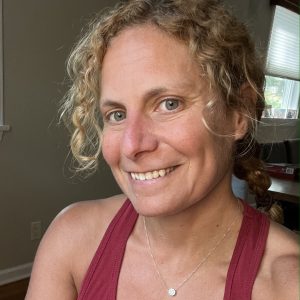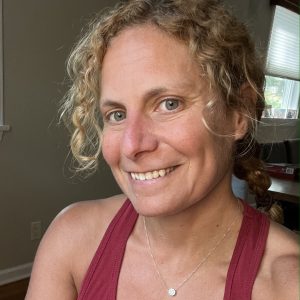 Laura Kovall
Director of Health & Fitness
Laura is a three-sport varsity athlete and captain turned nine-time marathon runner (and counting). Laura first worked in television and news production at ABC and CNN. She then received a…
read more
Aqua Arthritis: uses water walking and arthritis foundation exercises to move all major joints and facilitate activities of daily living. Improve balance, strength, and endurance in our Training Pool.
Aqua H.A.T.: targets your core while focusing on training the abdominal and lower back muscles. By using the legs in multi-dimensional movement patterns, you will develop a stronger midsection to stabilize your torso and improve your balance and posture.
Cardio Kickboxing: is a high-intensity cardio workout that incorporates some martial arts moves that will challenge you.
Cardio Resistance: includes high-intensity interval training with some cardio kickboxing, boxing, and strength training.
Chair Yoga: a gentle form of yoga that's easier on the body.
Cycle: pedal through hill climbs, sprints, intervals and other challenging drills in this indoor class (please check schedule to see if masks are required).
Deep Core: is a half-hour class where we target your deep core muscles.
Fit 4 Life: this arthritis fitness class incorporates sitting or standing positions to improve posture, balance, mobility and core strength.
Gentle Yoga: this beginning-level class combines yoga postures, breathing, and meditation.
Hatha Yoga: a multilevel practice which incorporates a series of poses that flows through breath and movement.
High-Def: a total body non-impact strength workout using weights and bodyweight exercises.
MamaFit by Laura: this 45-minute new mom-focused class contains cardio intervals and body strength exercises with a focus on the post-partum body that can be done with or without your little one.
Mat Pilates This class improves flexibility, tones muscles, helps balance the body while strengthening the spine and core which helps promote mind-body awareness.
MELT Method: a gentle self-care technique that enhances mobility, stability, and performance and is clinically proven to reduce chronic pain while restoring overall wellbeing.
No Sweat: a perfect mid day workout during your lunch break with a target on total body work, core and glutes where you leave feeling worked, recharged and ready to get back to your day.
Oh,_ HIIT!: a High Intensity Interval Training class with short periods of intense exercises followed by brief rest.  Don't get TOO comfortable!! OH, _HIIT.
Pop Pilates: highly-focused movements that leave your body toned and transformed, with improved strength and flexibility.
Pure Strength: a total body strength workout focused on muscle strengthening and compound movements.
Senior Strength and Conditioning: this low-impact workout consists of a warm-up, cardio, strength and flexibility components geared towards active older adults.
Stretch and Balance: a 45-minute class will focus equally on balance and stretch—perfect for after Pure Strength!
Zumba: Latin-inspired, cardio-dance workout at an upbeat tempo pace.
Tai Chi: a practice is based on Taoist philosophy and centuries-old Chinese principles of health, spirituality and self-defense.
TRX Circuit: a timed interval class that incorporates TRX, weights, and cardio drills.
Vinyasa Yoga: this style of yoga strings postures together so that you move from one to another
Workout with Adam: this is a challenging 45-minute strength class with our CEO will leave your muscles worked.
Yogalates: a combination of yoga and Pilates that focus on developing muscular and core strength and flexibility.