How to Find the Right Athletic Shoe
By Lisa Bruskin, Director of Fitness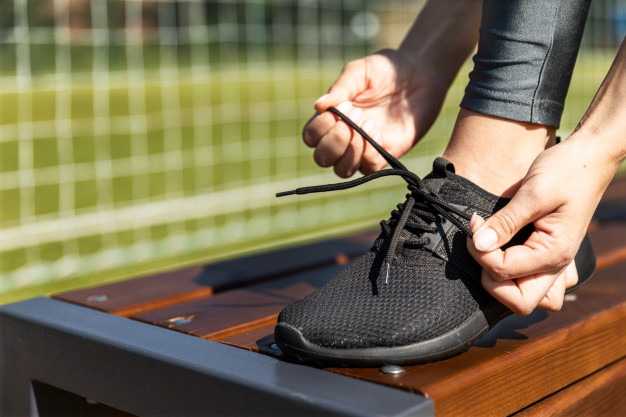 When looking to purchase a good sneaker it is important to ask yourself what will I be using them for? Will I be running, walking, mostly on trails or on a track, or treadmill? What type of foot do I have? Do I have a low arch, normal arch, or a high arch? Do I have a narrow foot or a wide toe box? Should I use them for multiple activities?
The goal of this article is to provide you with some basic answers to resolve some of these issues. At a time that we are all ordering online and social distancing; having some freedom to move will make all the difference.
Determine your foot type. Walk across a flat surface with wet feet and look to see if you have a wide foot; do you see an arch? What happens when your foot lands? Do you see a deep impression or not? If you see your entire arch on the ground you may have a flat foot (overpronation) That microsecond allows your foot to collapse inward too much which results in excessive foot motion. This means your foot and ankle cannot stabilize the body or absorb the impact efficiently. The opposite effect is a high arch (supinator) where you would see just the heel, the ball of your foot and a slither of the outside of your foot. The impact can cause a huge strain running up your legs as the arch does not collapse on impact and weight is not distributed efficiently. Those with a normal arch would see about half an inch of your arch on the floor, the foot then lands on the outside edge and then roll inward. This normal pronation absorbs shock and optimally distributes the force of impact evenly.
Buying a shoe. (Some inside advice)
Stick with a shoe that has always worked for you
The higher the shoe number does not necessitate a shoe upgrade. (Could just be color or slightly 'lighter' design)
Try and measure your FEET(in your training socks; use  ruler towards the later part of the afternoon or evening (as our feet expand)
Do you have a wide foot?
Try not to use your shoe for multi-sport activities (IE Tennis)
Read reviews
Only spend what you need to stay well – not because of the price of the product
Hope this helps and be sure to stay active and healthy throughout this crisis