Parent & Tot Aquatics (6 months – 3 years with an adult)
Parent & Tot Aquatics (6 months – 3 years with an adult)
Parent & Tot Group Swim Classes (ages 6 months – 3 years with parent or caregiver)
Get your toddler or baby comfortable in the water at an early age in our heated training pool! Our trainers will coach caregivers on skills needed in order to assist a child in feeling comfortable and confident in the water—as well as helping babies and toddlers with basic stroke movements and set them up for higher swim lessons and independent swimming.
Level 1 (ages 6 months–18 months)
Level 2 (ages 19–36 months)
*Swim diaper required*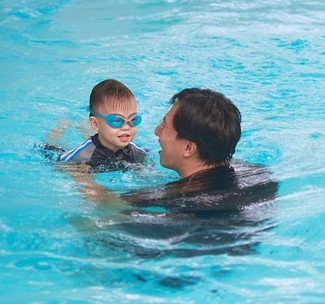 Youth Group Swim Lessons (6 months–12 years)
Effective Sep 5 – Oct 23, 2023
Youth & Preschool Group Swim Sessions
All Learn-to-Swim classes are in compliance with the American Red Cross guidelines and curriculum.
You may register online for L1 classes by clicking on the schedule and following the prompts. Levels 2–4 require an evaluation. Please email [email protected] to arrange for an evaluation.