COPE Partnership
We are beyond thrilled to announce our official partnership with COPE. COPE is a grief and healing organization that was founded to support families who have experienced the loss of a child. Since its origin, COPE has expanded to meet the needs of grieving family members more widely. COPE met the needs of their community by supporting children who have lost someone significant to them through their yearly bereavement camp, Camp Erin NYC. In addition to their camp, COPE now runs specialized healing workshops that are facilitated by a variety of mental health professionals.
We as a community center recognize that grief impacts all of us at some point. We aim to be a resource for our members who are going through challenging times. Through our partnership with COPE, we can provide intentional and impactful opportunities for our members and the larger Westchester Community to heal, connect, and be supporte during the process of bereavement.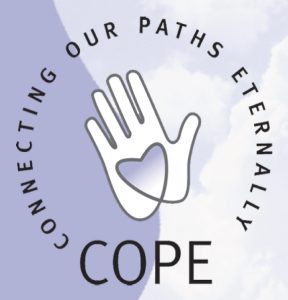 Mindful Grief Workshop
Join Dr. Amy Gross for a Mindful Grief Workshop on Wednesday, October 25th, 6:15-7:15pm
Grief and loss are deeply felt and part of our human experience. What can bring us greater ease and peace in the midst of pain is letting go of our resistance to it. There is no one right way to grieve and there is no easy way through it. We can learn to let the waves of grief, loss, heartbreak, and longing roll through us. And in our grief, we can remember how lucky we are to have had someone in our lives who touched us so deeply and who we loved so much. They are not lost but, instead, will always be a part of who we are. In this workshop, participants will mindfully witness and accept the truth of our human experience – that life is constantly changing and that with life comes death. Through learning, meditation, and discussion we will hold ourselves and each other gently and lovingly in the midst of our pain.
ABOUT AMY: Amy L. Gross, Ph.D. is a licensed clinical psychologist and certified meditation teacher with more than 20 years of experience in the mental health and wellness disciplines. She is currently in private practice in Westchester, NY where she works with adolescents and adults with a wide range of concerns and spends summers in PA at a sleepaway camp where she provides campers and staff with social and emotional support as well as mindfulness programming. Amy also teaches weekly meditation classes for Pause to be Present, an in-person and virtual studio in Scarsdale, NY. Amy's clinical and meditation experience creates a special synergy that she is eager to share with the COPE and Shames JCC communities. You can learn more about Amy here: https://dr.amylgross.com/. Find Pause to be Present on Instagram and Facebook @pausetobepresent.
Register